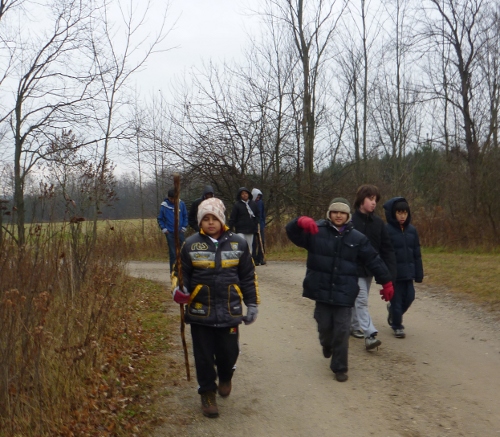 BE PREPARED – DARE – SUCCEED
April 26 – April 28, 2013
Goodyear Scout Camp
ABOUT THE JOE THORNE WEEKEND
This is an excellent opportunity for Scout patrols to demonstrate their ability to work as a
team while participating in challenging activities, and to learn new twists to old ideas.
Open to Scout patrols of 4-7 Scouts, all aged 10-14 years old at the date of the camp.
By achieving certain standards, every patrol can win a Bronze, Silver or Gold tent peg award,
and the top patrol wins the trophy as well. Needless to say, a patrol that doesn't make an
effort in the various challenges may win nothing.
The camp will be organized as it was last year. That is, the camp will be divided into a
number of camp "Troops" consisting of four or five patrols each. Patrols will be assigned to
their camp troop upon arrival at camp. Each troop will have a resident "Scoutmaster". A
visiting guest Venturer will judge the Saturday night meal preparation, presentation, service
and clean-up.

The Challenges:
Each patrol will participate in a round robin of events. They don't require specific scout-craft
skills, but do need imagination, teamwork and adaptability. Thinking before doing is often a
winning strategy.
Points Scoring:
Patrols receive points for each challenge, arrival, campsite orderliness/improvements and for
"Invite a Venturer to Dinner".
Scores will be posted as they are received each day.
Patrols should carefully review the score sheets so they will know what is expected of
them and they can perform to the best of their ability.
Arrival
Each patrol is to arrive and depart from camp in full uniform from the waist up. Check in is at
the main parking lot. Each patrol is to come fully quipped and self-contained, including a
patrol-sized dining shelter. The patrol will transport all personal and camping equipment
between the parking lot and its assigned campsite. A patrol may bring a flag/sign/banner to
place on its site. No other signs are necessary. No points will be awarded for signs or
deducted for their absence. Function and use of campsite improvement should be
self-evident.
Invite a Venturer to Dinner
For Saturday's "Invite a Venturer to Dinner" meal, we are leaving it up to your imagination as
you make a meal that fits the theme. This year's event challenges each patrol to come up with
a delectable dish that features Spinach as a main ingredient, which will be provided to each
patrol. You will need to supply all of the other ingredients, and the meal must be prepared
on-site, so that the Venturer may observe and fairly grade the patrol. Pre-made meals will be
disqualified. Advanced planning is a great idea. Groups may want to decide on a recipe
ahead of time.
Other Information
Propane or kerosene lanterns only (not naphtha) are permitted in the patrol kitchen areas only.
They are not to be carried around nor placed near sleeping tents. You may use Coleman
stoves that use naphtha fuel. Extra fuel cans must be clearly labeled with Patrol name and
number, as they will be stored in one central area. Any misuse will result in confiscation.
Matches and piezo electric sparkers only. Fires are permitted in a single location in the troop
campsite unless otherwise directed by the Scoutmaster.
Fires must be doused if campsite is left unattended.