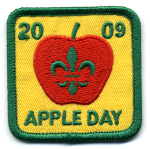 Our biggest outreach event and fundraiser is upon us again. This important event is a chance to be seen in the community and helps raise the money we need to run program for all our youth. The money raised goes to purchase equipment for camping and to pay program costs for the various events we get involved in.
We'll be on Parliament Street near Carlton from 4:30 to 6:30 pm on Friday, October 15 and Saturday, October 26 from 11:00 am to 4:00 pm.
We'll be at St. Lawrence Market from 8:30 am to 12:30 pm on Saturday, October 16.
See you there!