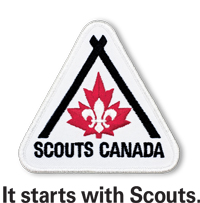 We're gearing up for a great year and are planning our programs. You can find some photos and details on the section pages linked at the top of every page.
How to Join
Registration nights are on Wed., Sept. 14 from 6-8:30pm and on Thurs., Sept. 15 from 7-8:30pm.Beavers (5 -7 yr olds) & Scouts (11 – 14 yrs +) meet Wednesdays and Cubs (8 – 10 yrs old) meet Thursdays. You can also register at any weekly meeting through the year.
Cost this year is $150 per youth for the full year (Sept to June). Some subsidies are available.
We've produced some new promotional materials for different age groups. You can download them below