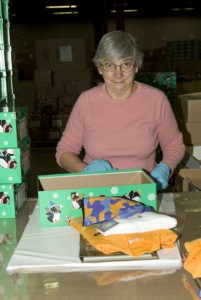 St. Simon The Apostle, Anglican Church
525 Bloor Street E. (look for the door with scout logo)
Friday, Dec 9th (This is a TDSB elementary school PA day)
12:00 PM – 7:00 pm
OR
Saturday, Dec 10th
8:00 AM – 12:00 PM
Please help support this service opportunity for the youth
For more information beth@kapn.net 416-363-7923 or day of 647-224-2384
Scouts in and around Toronto have taken part in the delivery of Star Santa Parcels for many years and the 403rd has been doing them in our general area for several years too.
We ask youth and their parents to take part in this activity. If you have a wagon or carts of various kinds please bring these as a large number of the parcels are delivered on foot in the immediate neighbourhood to apartment buildings.
Cars are useful for deliveries further away and it is good to know if you are bring one. You can invite friends and neighbours to take part too. We can sign off on volunteer hours for high school.
In addition to deliveries it is important to have two adults in the warehouse. If you can offer an hour or a couple of hours in the warehouse on either day to direct deliveries that would be good too.
Scouts should be in uniform. Everyone else should try to dress festively. Being in Scout uniform or cheerfully dressed helps ensure that doors get answered.