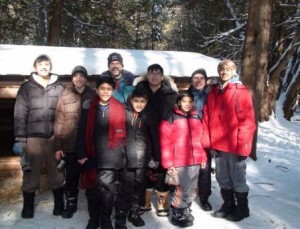 This will be our first camp of 2013. It promises to be very exciting. We'll be sleeping in Adirondack shelters at Blue Spring Scout Reserve northwest of Toronto near Acton. Adirondack shelters are simple wooden shelters with only three walls. They are not heated. The base is straw.
During the meetings leading up to this camp we'll be going over what we need to know to be safe, warm and have a good time, so make sure you come to all the meetings.
A gear list is attached. Please make sure you are properly equipped. We are outside all weekend. If you have questions or problems, speak to us about them right away so we can help solve them if we can. If you are not properly equipped to go to camp, you will not be permitted to go.
As ever, I expect everyone will attend this camp. If you have any concerns, talk to me and we will try to address them. The cost of the camp will be $45 to cover food and campsite. If money is an issue, talk to Scouter Beth and we can work something out.
Thanks to Daniel's dad, Tim, for taking on the task of organizing rides to camp.
We will leave Toronto at 6pm on Friday the 1st and leave camp at 1pm on Sunday the 3rd. We'll be camping at the Coyote and Racoon Adirondacks on the West Side of Blue Springs. The hike from the parking lot is just under a kilometre.