The 403rd Toronto Scouts have been a Sea Scout Troop for ten years now. As Sea Scouts we have done our best to be focussed on water activities:
3 summers of sailing on keelboats with skippers of the Queen City Yacht Club
several springs and autumns of canoeing and camping around Snake Island
several summers of canoeing and sailing at Haliburton Scout Reserve
hosted and led whitewater canoe trips on the Madawaska River (2011 & 2014)
several visits to the Harbour police station
hosted a Pleasure Craft Operator Card course for Scouts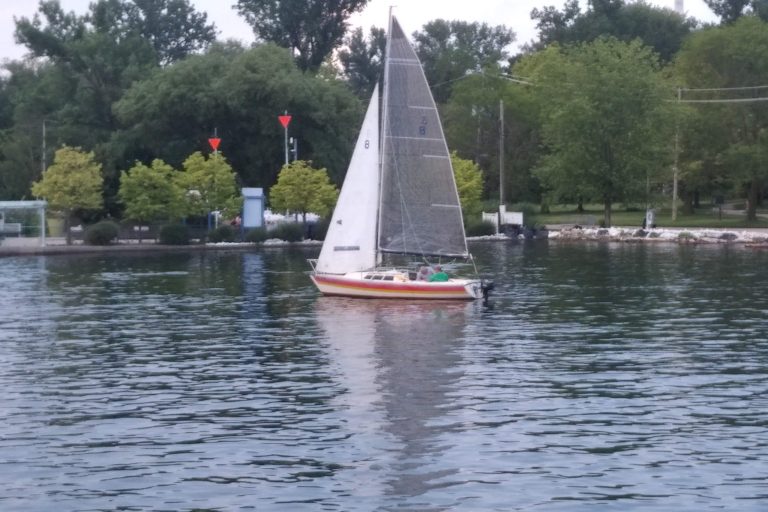 For many years the leadership had hoped to get more sailboat time for Sea Scouts and Sea Venturers. This is challenging because of the costs involved with acquiring, storing and maintaining suitable watercraft. One of the craft we have used is a Kirby 23, named "Warington" for the founder of Sea Scouting, that belonged to Scouter Keith and is kept at Queen City Yacht Club on Toronto Island. It has been a great vessel for Scouts to learn how to sail as it is very simple, while still being big enough for Scouts to sleep on if they develop the skills to cruise her.
As of this Summer, the 403TO has taken over the operating costs and will now operate Warington as a Scout boat for cruising and learning to sail keelboats. We hope to add dinghy access as well by springtime.
In addition Scouter Keith has acquired another keelboat that we will be able to use from time to time as well. More details soon.
If you would like to support any or all of our on-water activities, skills training and safety, we would welcome your engagement. Please email 403scouts@403to.ca.