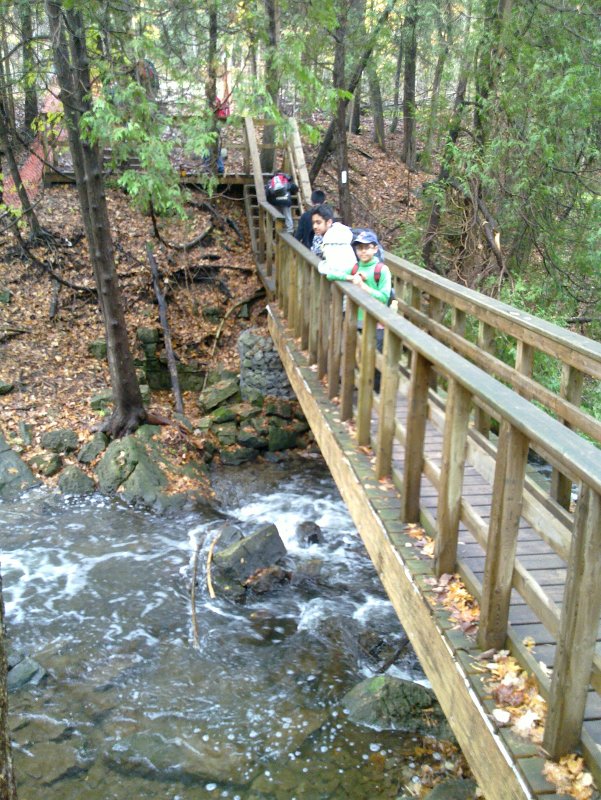 We'll be hiking on the Bruce Trail on Sunday, December 4. We'll leave our meeting place at 9am. Please stay out of the way of the church-goers if you are there early. We'll drive to Speyside (northwest of Toronto: 43.58306, -79.97189) and do a brief car shuttle to put a vehicle at the end (Limehouse: 43.63820, -79.97964). This is a great section and a good introduction to the Bruce Trail. Parents are welcome to participate if they drive and come prepared. There may be some limited to space to bring a friend, but this would need to be arranged beforehand.
You will need to:
dress for the weather (unless the forecast is for all day rain, we will go–snow, drizzle, showers, whatever.)
wear appropriate footwear for walking all day in the outdoors: good support, comfortable, waterproof.
bring a backpack to carry your own belongings and some of the group equipment
bring a bag lunch and a couple of healthy snacks
bring a mug and spoon for soup at lunch
bring a full 1L water bottle
If you have the following, you may find them useful, but they're not required:
pocketknife
emergency kit
compass
camera
Do not bring any electronics: no game-playing devices, no mp3 players, no phones.
We will return at about 4pm. We'll call when we leave the area to give parents about a 1hr warning of our return.