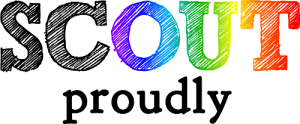 I joined the Greater Toronto Council presence at Toronto Pride this year. It was fun and we handed out 5,000 'badge' stickers. I told some folks it was their badge for being fabulous. That seemed to go very well. One thing that surprised me was how many people from the neighbourhood stopped by and expressed interest in getting involved. Because Toronto Pride is so huge, I tend to think of it being mostly folks from out of town. However, this is the most fun I've had at Pride in a while. It got kinda corporate for a while there, but it felt very community-owned this year.
We had seven people, two with children, from the neighbourhood express an interest. It was very exciting and I hope this makes for even better programs and more youth served this year. I certainly think that we should put some more group energy into Pride next year if we can.
If we were able to somehow get involved with the Family Pride area, we might well find more local families there.
We owe a big thank you to the other Scouts who did most of the booth staffing and arrangements for this event: Dan Nelson, Lizzy Dawson and Alex Kilby. Also to our new Executive Director Debra, who stepped in to help with the pickup when the person who had committed to do it backed out.
I made a shirt with the image above and that seemed popular, but it was my moustache that got more comments. See some of you over the summer and all of you in the fall.
Scouter Keith